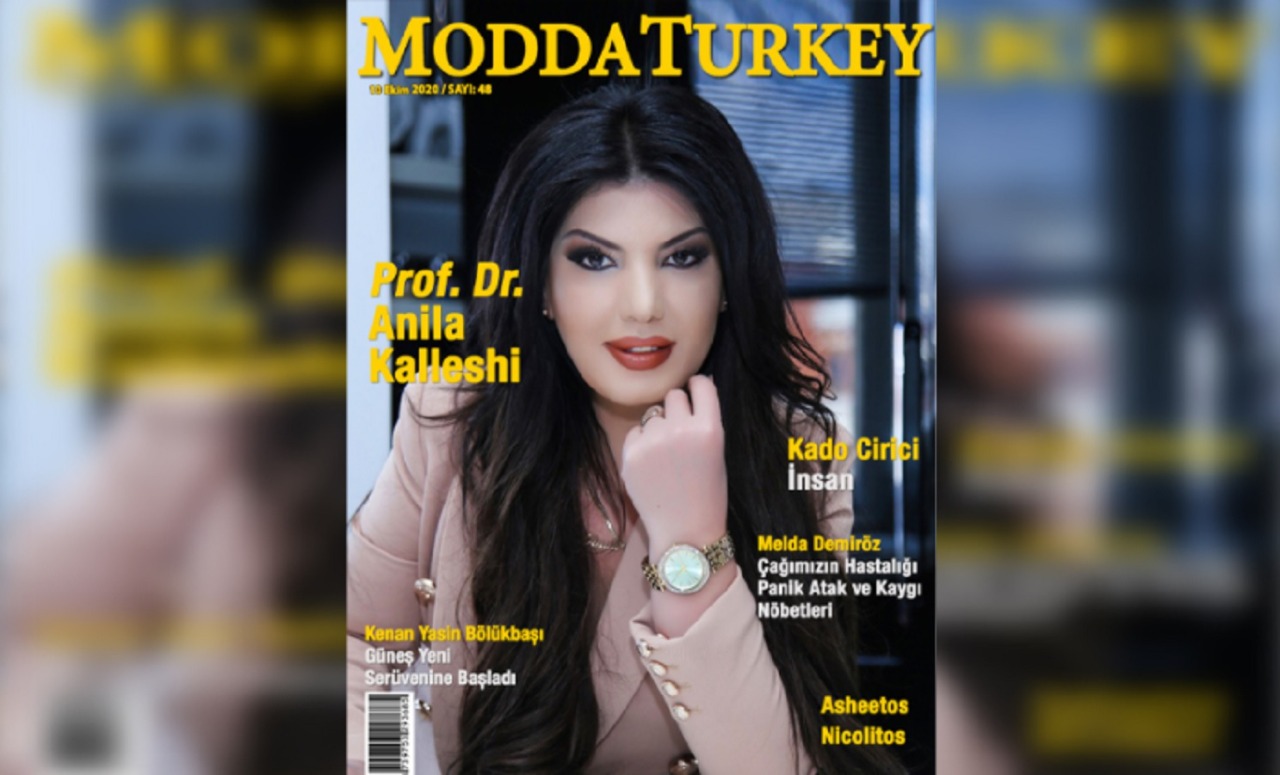 1-Could you tell us about yourself?
PROFF.DR. ANILA KALLESHI – Clinical Dietitian
Born in Shkodra on 11 July 1972. Doctor of Public Health. Graduated at Harvard Medical School, University of Arizona, the University of Tirana in 1994. Graduated at the Physiotherapy branch in 1997 at the Visa Medicinska University in Zemun, Belgrade. Master in Weight Loss Control & Weight Loss Management at U.S.A. Master in Clinical Nutrition at UNICUSANO, University in Rome. Harvard Medical School "Lifestyle Medicine: Tools for Promoting Healthy Change" , Master at Tor Vergata University in Rome "Medicina Estetica" 2016. Aldo Moro University in Bari Corso di perfezionamento "Style specializing in: Anatomy & Physiology 100, Physiotherapy, Weight Loss Control, Cosmetology and Nutrition, Weight Loss Management 101, Anti Aging Techniques, Massage and Reflexology 101, Reflexology, Massage Therapy, Weight Training, Nutrition and Dietetics, Beauty Therapy Level 2, Advanced Course "Know your genes and change your destiny".
Member of "The Italian Association of Dietetics and Clinical Nutrition (ADI)", member of the European Confederation of Dietetic Association (ECD),m ember of the American Dietetic and Nutritionist Association, member of ELMO European Lifestyle Medicine Organization ,member of ASLM Australasian Society of Lifestyle Medicine, member of ILMA Italian Lifestyle Medicine Association
On 6th December 2017, the Albanian Lifestyle Medicine Association was founded. The ALMA association promotes and disseminates the culture of the correct style of life as predicted by the World Health Organization as the notion of "health"
Exercises activity in the field of weakness and dietology since January 1998 with its center Anila Kalleshi's AKC Center. Dietologist at the San Antonio Clinic in 2011. Participation in National and International Conferences and Conferences
– June 16, 2016 5th European Nutrition and Dietics Conference in Rome,
– 11-13 July 2016 attending the 9th Euro Global Summit and Expo on "Food and Beverages" in Cologne Germany
– 13-14 April 2017 referring to the 3rd Congress of pregnant women on topic "Pregnant Diet.
– 27-29 July 2017 International Conference of Dietics and Nutrition in Rome, Italy.
– 13 th International Congress on Advances in Natural Medicines, Nutraceuticals & Neurocognition in Rome, Italy
– 18-20 September 2017 at Zurich in Switzerland The 16th World Congress "Nutrition and food chemistry"
– September 30, 2017 at Aldo Moro University in Bari The National Department of Science of the Stile di Vita has participated in the course "Know your genes and change your destiny"
– January 12, 2018 at Aldo Moro University in Bari The Department of National Science of the Stile di Vita began its studies in the Perfectional Course "Expert in LifeStyle Medicine over 60"
– June 2018 Harvard Medical School Lifestyle Medicine Tools for promoting Healthy Changes
AWARDS
– 21 September 2009 Anila Kalleshi Center at the Concorde Concert in Paris, France, International Organization B.I.D (Bussiness Initiative Directions) hosted the World Quality Commitment Award honoring the Golden Trophy
– May 31, 2010 Anila Kalleshi Center at the ceremony held at the Marriot Marquise Hotel in Manhattan, New York U.S., international organization B.I.D (Bussiness Initiative Directions) held the International Quality Summit Award, honoring with Diamant trophy.– November 29, 2010 Anila Kalleshi Center at the ceremony held at the Hotel Gouman in London, England, international organization B.I.D (Bussiness Initiative Directions) held the "International Quality Crown Award" honoring with the Trophy Platini "Quality Crown" in London.
– December 20, 2010 Anila Kalleshi has been awarded the "The Platinium Technology Award" for the quality of services it offers and the good name she has in the market in Geneva.
– April 18, 2011 in Berlin, Germany, BID (Bussiness Initiative Directions) honored Anila Kallesh with "The Arch of Europe" for quality and prestige of business
– December 20, 2010 Anila Kalleshi has been awarded the "The Platinium Technology Award" for the quality of services it offers and the good name she has in the market in Geneva.
– April 18, 2011 in Berlin, Germany, BID (Bussiness Initiative Directions) honored Anila Kallesh with "The Arch of Europe" for quality and prestige of business "with the motivation of acknowledging prestige,
– May 31, 2011 The World Business Confederation of Anila Kallesh as an "Elite Member"
– June 27, 2011 Kalleshi Center is honored with the "Golden Trophy" in Frankfurt for a great contribution to world business.
– October 29, 2011 – Incoob Business Meeting praised Anila Kalleshin with "The Excellence Awards 2011 Peru". This convention recognizes business development and successes achieved.
– "Company of the Year", on behalf of Kalleshi Center.
– World Leader Business Certificate, which sets Kalleshi Center as a business leader. Honorary title as "Leader in Business Management.Honorary title "Leader in Marketing Management".
– Anila Kalleshi participated as a jury member at the International Business Awards at the Steeve Awards for 2011, 2012, 2013, 2014, 2015, 2016,2017,2018,2019,2020.
– November 28, 2011 Anila Kalleshi has been honored with Trofene "The diamond Eye Award for
Quality and Excellence "at the" Grand Hotel Kempinski "in Geneva.
– December 4, 2011 in Brussels, Belgium, The European Society for Quality Research (ESQR) selected Anila Kalleshi Center for quality and excellence in achievement and management throughout the world, honoring him with a trophy.
– December 10, 2011 in Oxford, at the annual International Convention on Socrates, Anila Kalleshi Center honored the Best Enterprise Award for personal contribution to the development of the integration process as a fruitful and efficient leadership.
-28 May 2012 at Hotel Marriot Marquise in New York BID honored the IQS award at the International Quality Summit Award.
-24 June 2012 in Rome The European Society for Quality Research honored the International Diamond Award for Excellence in quality.
– July 16, 2012 Otherways International Research & Consultant honored the "Golden Europe Award for Quality and Commercial Prestige" in the lobby of Meridien Etoile in Paris.
– 5 September 2012 European Society for Quality Research in Brussels at the International Diamond Prize for Excellence in Quality.
– 19 November 2012 The Global Federation of Bussiness honored the GFB Golden Sphere Award of Prestige Award 2012 in Tokyo.
– 2 December 2012 European Society for Quality Research in Brussels, at International Diamond Prize for Excellence in Quality.
-18 December 2012 European Bussiness Assembly honored at the European Quality Award at Hofsburg Palace in Austria, Vienna.
-26 April 2014 at Hilton Molino Hotel in Venice at the annual event "THE BIZZ EUROPE 2014"
Business Excellence and Elite Member of the World Business Confederation (WORLDCOB).
-30 July 2015 at Hotel Caesars Palace in Las Vegas at the annual event "THE BIZZ EUROPE 2015" honored with the trophies "Be a legend"
-27 February 2016 at Hotel Claris in Barcelona The World Confederation of Bussiness honors the trophy Golden European Award for Quality and Bussiness Prestige in the Weight Loss Industry sector.
June 29, 2016 in Mexico City 2016 Worldwide Marketing Organization honors with the Golden Medal for Quality & Service Award
30-31 July 2016 with the trophy "Glory" THE BIZZ AMERICAS "in Washington D.C. USA
October 2, 2012 in New York is honored with the Albanian Exellence trophy at the event "Albanian Ladies in New York"
3-4 July 2017 in Lucerne Switzerland is honored with the International Prize in the field of medicine "Name of Science" as the best dietology at the Quality Excellence Conference.
14 September 2017 is certified by the Diplomatic Mission of Peaces and Prosperity as a Peace Missionary
October 6, 2017 at the Carlton Hotel in Cannes, France is honored with the International Prize in the field of medicine "The International Award" Rose of Paracelcus "at the Quality Excellence Conference.
October 6, 2017 at the Carlton Cannes Hotel in France at the European Night Awards honored with the highest international award in the field of medicine "The Socrates Award"
14 November 2017 in Dubai is honored with the "Triumph" BIZZ AMEA 2017 at the Burj Al Arab Hotel by the World Business Confederation.
12 December 2017 Albanian Excellence at the Sheraton Gala Hotel Gala "50 x 50 One-of-a-Kind Symbol" is honored with the Albanian Exellence 2017 trophy.
2-3 May 2018 at the Charles IV hotel in Prague was honored with the troupe "Pinnancles: and" Inspirational Company ".
December 23, 2017 Live Style Albania honored with the Business Awards trophy.
He is a junior member of the New York-based International Steeve Awards jury in 2008, 2009, 2010, 2011, 2012, 2013, 2014, 2015, 2016, 2017.
PUBLICATIONS
She is the author of "How to get weakened" in December 2011, "Diet ?! Not only "," Diet Challenge "in March 2014," 28 Day Diet "in July 2014," Live Healthy "in October 2015," Living Without Grain "in April 2016," Pregnant Diet "in 2017." Smoothie "2017." Lifestyle Medicine – the science of effective change – a practical guide to a healthy lifestyle with Luigi Maselli.
TELEVISION PARTICIPATION
– Invited to 2674 TV programs in Top Channel: "Wake Up", "Afternoon in Top Channel", "Information Editions", "Sun in TCH", "Book Cover", TV Klan in Albanian TV Radio on the shows:, Agon Channel, Digitalb, Vizion +, UTV, Planet TV, Ora News, Channel One, Tv Shijak, Scan Tv, A1 Report, TV Time, TV Opinion Prizren, Neser Tv, TV Theme, TV Arberia, etc
RADIOFONIC INTERVIEW
Top Albania Radio, Radio Tirana, Radio Travel, Radio Scan, Radio Contact, etc.
ARTICLES AND SCRIPTURES PUBLISHED
– There are over 1680 articles in the journals: Psychology, VIP, Star, Taste Magazine, Super, Star People, Elite, Cult, Modern Women, Women's World, Konak, Madame Mapo, Start Model, Saloon, Runaway Man, Psikostil, Look, Chic, Centrum, Anabel, Life, Harmony, Spekter, In Style, etc and in newspapers: Telegraf, Shekulli, Tirana Observer, Standart, Sun People, Game Over, Paloma, Time, Interview, Plus info, Super Health, Day, Shqiptarja.com, Labëria, Sunbeam, Panorama, Vip Trafik, Interview, Balkan. Portals: Newsbomb.com, supershendeti.al, shije.al, panorama.al, laberia.al, vipinfo.al, etc.
2- What was your favorite collection this season?
Suits and co-ords are a timeless trend. There is no easier way to get dressed than with co-ords this season. The two piece outfit is the most comfortable outfit ever. A sharp blazer and a chic trouser shows great taste, is classy and simply speaks volumes.
3- What does eating healthy mean to you?
Healthy eating essentially means eating a variety of foods that benefit your body and its overall health. By making a few simple changes, you can cut your chances of developing obesity, heart disease, stroke, diabetes and even some cancers. And the best part is that even simple changes can create big results. Eating healthy can be easy, affordable and delicious. It's all about making smart choices to build an overall healthy dietary pattern.
4- What is your biggest dream?
My biggest dream is opening "Anila Kalleshi Center" in U.S.A
5-How should the right diet be?
A healthy eating plan gives your body the nutrients it needs every day. A healthy eating plan: Emphasizes vegetables, fruits, whole grains, and fat-free or low-fat dairy products; includes lean meats, poultry, fish, beans, eggs, and nuts, limits saturated and trans fats, sodium, and added sugars. After all, a healthy diet can help reduce your risk of heart disease, stroke and lots of other things you'd rather avoid. The good news is, eating right doesn't have to be hard or require you to give up all of the foods you love.
6-If we wanted you to express yourself in 3 words, how would you say it?
3 words:
Hardworking,
Confident,
Positive.
7-How would you describe the place of love in your life?
Love means caring for your family more than yourself. Family for me represents the foundation of self, and a unity of acceptance, unconditional sacrifices, joy, support and love. It means living my life so that my child can be proud of me!
8-How would you describe the energy of love in your life?
Love is an universal feeling. The love of a family is like a code that should never be broken.
9-Do you have any features about yourself that you don't like?
I always try to be the best version of myself. I continually challenge myself to improve in every area of my life–both personally and professionally. It all starts from within. We all have the capacity to become better, and work and live in fulfilling ways.
10-Are you open to innovations?
Innovation can give my company an edge in a highly competitive market, so I'm always in. Mostly I am focused in digital marketing, because digital marketing will remain as the most powerful way of Marketing in the future. This will help my brand to target customers with the right message, at the right time, on the right device.
11-What was the bravest decision you made in your life?
The bravest decision was to open "Anila Kalleshi Center'' in 1998, because the 90' were a tough period for Albania, a transition period. I have to mention that "Anila Kalleshi Center" was the first weight-loss center in Albania. With an unstable market and a small amount of money in my pocket, i decided to take that step that change my whole life.
12-How do you spend your time at home due to COVID-19?
Like everyone else, staying home with my family, spending time with each-other and mostly cooking delicious recipes.
13- What are the mistakes produced in the diet?
Some simple rules:
-Eating healthy isn't very complicated. 
-Quality and quantity both need to be considered when choosing what to eat.
-Carbs are not your enemy, and whole wheat bread isn't always your friend, among other misconceptions.
14-Do you have your favorite perfume?
My favourite perfume is Cristal Noir by Versace.
16- How about food supplements (such as vitamins, minerals)? Should it be used?
Suplements should not replace real food, remember that. So before you use supplements, you should improve your diet. And never take supplements before consulting with a doctor before. Dietary supplements would seem to be the obvious way to plug gaps in your diet. But taking too much can actually harm you. For example, you can get too much of a particular nutrient without realizing it. "Extra vitamin A supplements can lead to dangerous, toxic levels if taken too frequently.
17-Do you have any advice for those who have trouble drinking water?
Set a reminder or download specific apps to help you to achieve the goal of drinking 8 glass of water in a day. Water can help us to control calorie consumption, invigorate us while exercising, boost kidney function, aid in digestion, and improve our skin.
18-What are the correct nutrition mistakes?
Eating a healthy diet is not about strict limitations, staying unrealistically thin, or depriving yourself of the foods you love. Rather, it's about feeling great, having more energy, improving your health, and boosting your mood.
19-Are there any simple rules you can suggest for a healthy diet?
The truth is that while some specific foods or nutrients have been shown to have a beneficial effect on mood, it's your overall dietary pattern that is most important. The cornerstone of a healthy diet should be to replace processed food with real food whenever possible. Eating food that is as close as possible to the way nature made it can make a huge difference to the way you think, look, and feel.
20-The biggest health mistakes of women?
You don't have to be perfect, you don't have to completely eliminate foods you enjoy, and you don't have to change everything all at once that usually only leads to cheating or giving up on your new eating plan. A better approach is to make a few small changes at a time. Keeping your goals modest can help you achieve more in the long term without feeling deprived or overwhelmed by a major diet overhaul.
21-How much exercise should be done to be fit and what summer?
As a general goal, aim for at least 30 minutes of moderate physical activity every day.
If you can't fit in one 30-minute walk during the day, try a few five-minute walks instead. Any activity is better than none at all. What's most important is making regular physical activity part of your lifestyle.
22-What should we do to speed up metabolism?
While a person has no control over the genetic aspects of their metabolism, there are some ways to help speed up the rate at which the body processes calories. Some tips are: Eat in regular times and get enough calories, reduce stress, get plenty of sleep and hydrate.
23-What are the essentials of your life?
My top priority are family and my work. Combining work and family life can be complicated, but i have found the perfect balance.
24- What are your hobbies?
My hobbies are photography and graphic disegn.
25-What do you spend the most money on?
I spend most of my money on my son education and medical courses and conferences, because i believe that education is the passaport for a better future.
26-Is sport important to you? How much time do you spend?
Sport is very important for me and should be for everyone. I spend at least everyday 30 minutes walking at Tirana Lake in the morning. Sport it is very important because:
⁃ improves physical and mental health. It keeps the body and mind active and engaged, strengthens the immunity system of the body and energizes them.
Empower students with life skills – While sports not only help in developing physical and mental health, it also develops the life skills of a student's personality. It enhances their capabilities and helps them to have a better understanding of themselves. Sports also help in developing social skills and getting along with people. They learn to interact not only with children of their age but also with adults like their coaches and seniors. Additionally, children acquire decision-making skills through various team activities.
Learn time management and discipline – Constructive use of time and discipline is a major characteristic of any sportsperson. If a student plays a sport, he/she needs to show the commitment of time to be in a particular place at a particular time everyday as a part of their routine. He/she must be patient, disciplined which will enable the student to cope with criticism and setbacks. Each sport has a set of rules and regulations to be followed which helps the students to stay fit and disciplined.
Improved leadership and team building qualities – Sports is all about teamwork. Jain Heritage School encourages team sports such as football, cricket, basketball etc. which gives an individual a sense of identity and belonging to a group. Such sports encourage children to showcase their talent and communicate with their team members. It also helps to identify and hone their leadership skills which add values to their personality.
Winning and losing is all part of the game – Sports is not always about winning. It is about fair play and believing in equality and justice. Losing is a part and parcel of any game and accepting defeat in a positive competitive spirit distinguishes a true sportsperson which propels him/her to strive harder the next time to achieve what he/she missed out on the previous game.
Boost self-confidence – Scoring a goal, hitting a six or winning a race not only makes a student happy but also it boosts their confidence. Performing in front of a crowd which is constantly noticing your each and every move can be quite unnerving. But a sportsperson is one with focus, patience, the right amount of confidence having a never-say-die attitude
27-What kind of music do you listen to?
Especially I listen classical music, it's my favourite gener of music. Another Genre that I listen to would be Rock! Rock has always been my favourite Genre to listen to since I was a child. Another Genre that I listen to is Pop! I like music to a certain extent and even though it's widely known these days, I still have mixed feelings about the genre. However, there are artists that I absolutely adore. These range from John Legend to Ariana Grande to Billie Eillish. RnB and Hip-Hop are one of my favourite music genres of all time because they have all the hits! Like Chris Brown to Rihanna to Daniel Caesar! It's literally the best!
28. What does music mean to you?
Music is the most powerful element that can drive you from moods and situations. If sometimes i'm sad or not feeling well, i just listen some good music and my mood changes immediately. That's the power of music. Without music, life would be a mistake. It gives a soul to the universe, wings to the mind, flight to the imagination and life to everything. Music expresses that which cannot be put into words and that which cannot remain silent.
29-How is your day going?
My day is going perfectly fine, thanks for asking. It's a busy day with
30-What is your philosophy of beauty?
Beauty is not of the world in which you can physically hold. It is not just the admiration that one gains from the visual aspect of something they find attractive, but also the admiration that one gains from the thing it's self. Whether it be from the personality of a living thing, or the appearance, or the idea- theory behind the thing. It is the admiration that moves us, inspires us and pushes us to make a change or input our own idea or form of beauty back out into the world. This may be returned in spoken, written, or draw appreciation or in actions that carry the message of our appreciation to the world.
31- Did you come to Istanbul for the first time? Do you like Istanbul?
I have visited Instabul 3 years ago and I think that it`s one of my favourite cities in the world because :
⁃ it is a mix of cultures
⁃ It has interesting sights and places. Breathtaking views, beautiful sunsets, water, mosques…
⁃ You can see 2 continents in a city
⁃ I love Turkish gastronomy. Turkish food is not just kebabs, and it's actually surprisingly easy to travel there as a vegan. You can get healthy vegetarian meals everywhere. My personal favorite is a lentil soup; it's delicious! Also, check out the street food options: grilled corn, chestnuts, simit (sesame bread) and pomegranate juice! And try meat-free Çiğ köfte made of bulgur wheat and spices.
⁃ I love turkish bath (hammam)
⁃ Beautiful mosques with a lot things to learn.
⁃ From ancient sites to modern buildings, the city is full of great architecture.
⁃ The history of Istanbul is so interesting. I have learned that Istanbul has been the capital of the Ottoman, Latin, Byzantine and Roman empires.
⁃ The nightlife is just perfect.There are so many bars and restaurants, and always something happening.
32- Where do you prefer most for vacation?
A part of my vacations is the south of Albania . During the years I have traveled a lot everywhere. I love traveling to U.S.A, Instabul, Greece, Prague, Italy, France, Spain, Austria. I travel a lot because it makes me realize how much I haven't seen, how much I'm not going to see, and how much I still need to see. Traveling for me puts things into perspective. It allows me to realize that there are far bigger things that my problems. So what if the wifi is slow or if my favorite ramen place is closed. Traveling allows you to see that the world is not always about you. It allows me to see how other people live and what they have to deal with on a daily basis.
Traveling has humbled me and has broadened my perspective in so many ways. Traveling to places like Southeast Asia and other impoverished areas has given me a sense of gratefulness for the modern-day comforts that I am able to enjoy.
33-  Which profession would you prefer if you were not a dietitian?
I would be a model, or math teacher because i have been a great student in math, it used to be my favourite subject.
34- Do you cook at home? What is your favorite meal and can you share your recipe with us?
Yes I cook and my favourite dish is the guacamole dip. The best guacamole keeps it simple: just ripe avocados, salt, a squeeze of lime, onions, chiles, cilantro, garlic and some chopped tomato and cucumber. All ingredients are unprocessed, they aren't cooked in high temperatures, so the nutritional value remains without changing. Serve it as a dip at your next party or spoon it on top of tacos for an easy dinner upgrade.
37- What is the importance of regular sports especially for women?
Girls and women who play sports have higher levels of confidence and self-esteem and lower levels of depression. Also they have a more positive body image and experience higher states of psychological well-being. Physical activity and sport can do great things for your health – even beyond improving your fitness level.
1. Enhanced confidence, assertiveness, and self efficacy. This helps you ask for what you need, make sound decisions, and execute tasks with vigour.
2. Increased positive mood states which drastically affects your daily life and the lives of those around you. I'm a firm believer that most accomplishments in life require a consistent positive attitude no matter what!
3. Improved memory, greater perception (ability to notice things around you), and less confusion. These benefits foster independence and decrease our reliance on others.
4. Decreased anxiety and depression. Fun fact, regular physical activity has been scientifically shown to be a more effective treatment of severe anxiety and depression than prescribing a second medication.
5. Decreased anger, reduced tension and an improved ability to cope with stress. Your ability to deal with stressful and/or tense situations is drastically improved, enhancing your ability to stay calm and collected when you need to. As a result, your reactions to tough situations are enhanced.
38-Can we ask what is your philosophy of life?
By "philosophy of life" I mean a mental framework for understanding how the world works and how you fit into the world. The philosophy of life would include things like how you decide what is "good" and "bad", what "success" means, what your "purpose" in life is (including if you don't think there is a purpose), whether there is a God, how we should treat each other, etc.
1. Decide exactly what you want and where you want to go.
2. Set a deadline and make a plan to get there. …
3. Take action on your plan; do something every day to move toward your goal.
4. Resolve in advance that you will persist until you succeed, that you will never, ever give up.
5. Do what makes you happy and nothing else.
A balanced diet is the best choice, your body will thank you. The personal cardiologist of Bill Clinton that changes totally his life , Doctor Dean Ornish said: "Our genes are a predisposition, but our genes are not our fate' so we are able to change our genes with a healthy lifestyle. Eat well, move more, stress less and love more.